Las Vegas is known for the big bright lights, casinos, gambling, restaurants and shows…but what about camping and exploring?
.
Is Las Vegas the place to go
Camping?
There are RV Campgrounds/Resorts just a few miles from the the Las Vegas strip and you go out about 10 miles, from the strip, you can find many more campgrounds.
Where to go if you want to go Camping close to the Strip?
For the most resort feel and great location Oasis Las Vegas RV Resort is the place we prefer.
Oasis Las Vegas RV Resort is just a mile from the Las Vegas Strip with easy assess by car, bus, bike or walk. The campground has full hook ups which is a must in the Las Vegas heat. This resort can accommodate every size RV, has a lot to offer on property but what we love best is the ease to explore the areas around Las Vegas. 
We created an in-depth video of Oasis Las Vegas RV Resort check out what Oasis RV Resort looks like and all the amenities they have to offer. Click the video below. 
Why we love Oasis Las Vegas RV Park
In addition to full hookups, we love to hang out at the pool and like that there are separate adult and a family pools.  We have spent a lot of time here we are able to work on creating our videos and editing but also relax and have fun.
Our List of Great Places to Explore.
Red Rock Canyon is less that 20 miles from Oasis Las Vegas RV Resort and just down the hill from Mt. Charleston. There is an RV Park in Red Rock Canyon or you can go for the day. There is a 13 mile scenic drive and miles of hiking trails, rock climbing, horseback riding, and bike riding. We love to ride our electric bikes on the trails and enjoy the beauty of the Red Rocks. Bring a lunch, snacks and plenty to drink. In the summer months it gets very hot so a drive in the car maybe the best option.  
Entering the park you quickly know why it is called Valley of Fire. This is a 40,000 acre park with bright red sandstone. Exploring we found petrified trees and petroglyphs that we found out dated back 2,000 years. When we arrived we started at the Visitor Center that has a great exhibit and so much information to help you decide how to spend your time. You can spend a day here or stay in one of the campgrounds.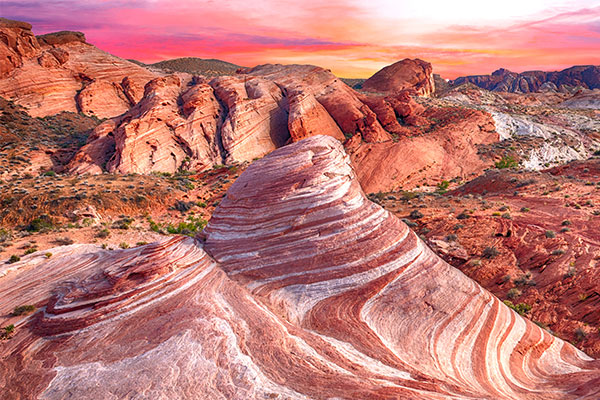 Just 30 minutes in the other direction and you are in Lake Mead. Here you will find the Hoover Dam, walk around the outside and/or take the tour down into the Dam. While you're in the area visit Boulder City the town that was built to house the workers as they built the Dam. This town is rich in history and has many shops, restaurants and trails for walking, hiking or biking. Make sure to stop by Mom's for the best hot dog on the west coast. 
If you want to stay in Lake Mead there are several campgrounds, everything from full hookups to boondocking. We stayed several times at Boulder Beach Campground, the are permeative sites, which means no hookups, there is a dump and water fill station. The sites are large and have fire pits and picnic tables. This is a great campground during the spring and fall months. 
About an hour of Oasis Las Vegas RV Resort you can explore Mt. Charleston you are suddenly transported from the desert of Las Vegas to the mountains. It's a great place to go when Las Vegas gets hot as the mountains are over 30 degrees cooler. There are beautiful trails to hike, bike or drive through. There are few places to grab a bite or bring a lunch and enjoy a picnic. We saw a family of wild horses with a colt that had been born that day. 
If you choose to bring an RV there are a number of campgrounds on Mt. Charleston. We stayed at Fletcher View and had a large site and an amazing view. We had a family of horses that would come visit us everyday.