Whether you're a full-time RVer like us or just an occasional weekend warrior, having a well-stocked first aid kit in your RV is essential. In this article, we'll explore the benefits of having a first aid kit and what you should include in one to be fully prepared for any medical emergency that may arise during your travels.
Why
You
Need To Have A First Aid Kit In Your RV:
Listen to episode 7 of the RV LIFE Podcast where Dan & Patti had the opportunity to interview Bob Bacheler CEO of Flying Angels, expert in Emergency Medicine, as he shares, why a first aid kit is do important, what you need in it, and how to handle emergency situations. 
Here are just some of the benefits of having a first-aid kit in your RV:
 Knowing that you have a first-aid kit in your RV will give you peace of mind on your travels. If something does happen, you will be prepared and know exactly what to do.
Having a properly stocked first-aid kit, knowing what's in it, how to use it, when to call emergency medical services (EMS), or handle the situation yourself. Being prepared could help save a life.
First-aid kits are very convenient, having a full first-aid kit for in your RV and a smaller kit for when you are out on a hike, in a boat, or in your care.
If you are traveling with family or friends, having a first-aid kit will give them peace of mind as well, knowing if something happens you are prepared.
What To Include In Your First Aid Kit In Your RV
The following is a list of suggested items:
Your RV first aid kit should be packed with items that will allow you to deal with minor injuries and illnesses.
1. BANDAGES/TAPE – Assorted sizes of adhesive bandages and gauze pads, adhesive bandage tape
2. OINTMENTS & CLEANING – hydrocortisone cream, antibiotic ointment, hydrogen peroxide, alcohol, antiseptic spray 
3. PAIN RELIEF MEDICATION – Ibuprofen and Acetaminophen.
4.  ANTIHISTAMINES – Benadryl 
5. SUPPLIES – Tweezers, scissors, thermometer, pulse oximeter, disposable gloves, flashlight 
6. HOT/COLD PACK – Instant heat pack, instant ice pack
How To Assemble A First Aid Kit in
YOUR
RV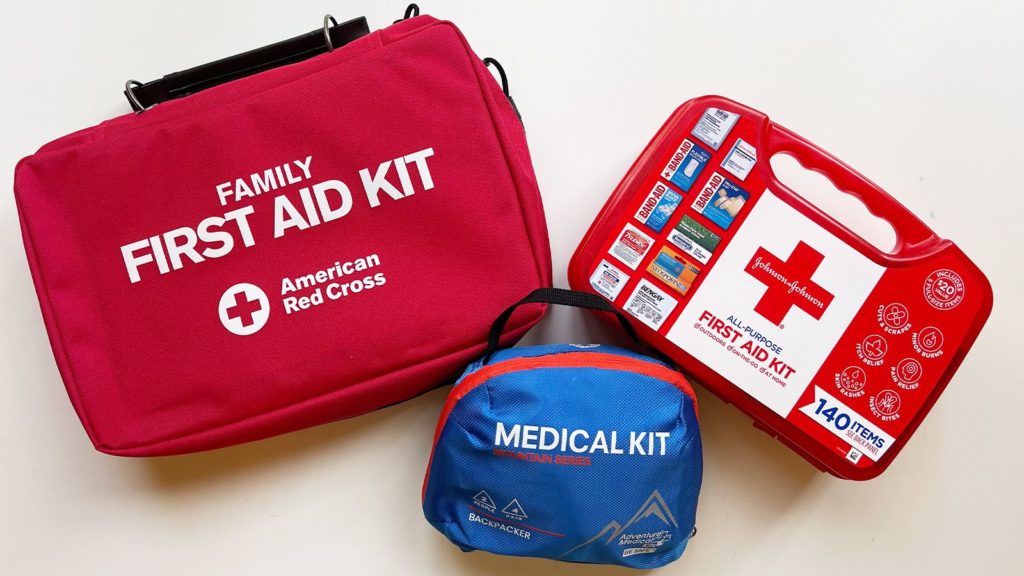 There are many different types of first-aid kits available on the market, it is important to choose one that is right for your needs. You may want to consider a kit that is specifically designed for RVers. These kits typically include items such as bandages, antibiotic ointment, pain relievers, and more.
When choosing a first-aid kit, it is also important to think about what type of medications you might need while on the road. If you have any allergies or medical conditions, be sure to include medications for those in your kit. It is also a good idea to pack extra supplies of any prescription medications you take regularly.
Assembling a first-aid kit for your RV does not have to be difficult or time consuming. By taking some time to think about what you need, you can easily put together a kit that will serve you well in case of an emergency.
Making sure you and your family members are familiar with the first aid kit, where it's located, how to find the items, and how to use them in an emergency is as important as having the kit.
No matter how careful you are, accidents happen. That's why it's important to have a first-aid kit in your RV. You never know when you or a family member will need it.
Having a first-aid kit in your RV is an essential part of being prepared and keeping everyone safe. With the right items, you can help prevent minor injuries from becoming major ones. By having the necessary supplies and medications on hand, you won't have to worry about running out or not having what you need when an emergency arises. Take some time now to stock up on all the items that should be included in your RV's first-aid kit so that it will always be ready when you need it.