With a little planning, you can see 7 breathtaking parks in only two weeks.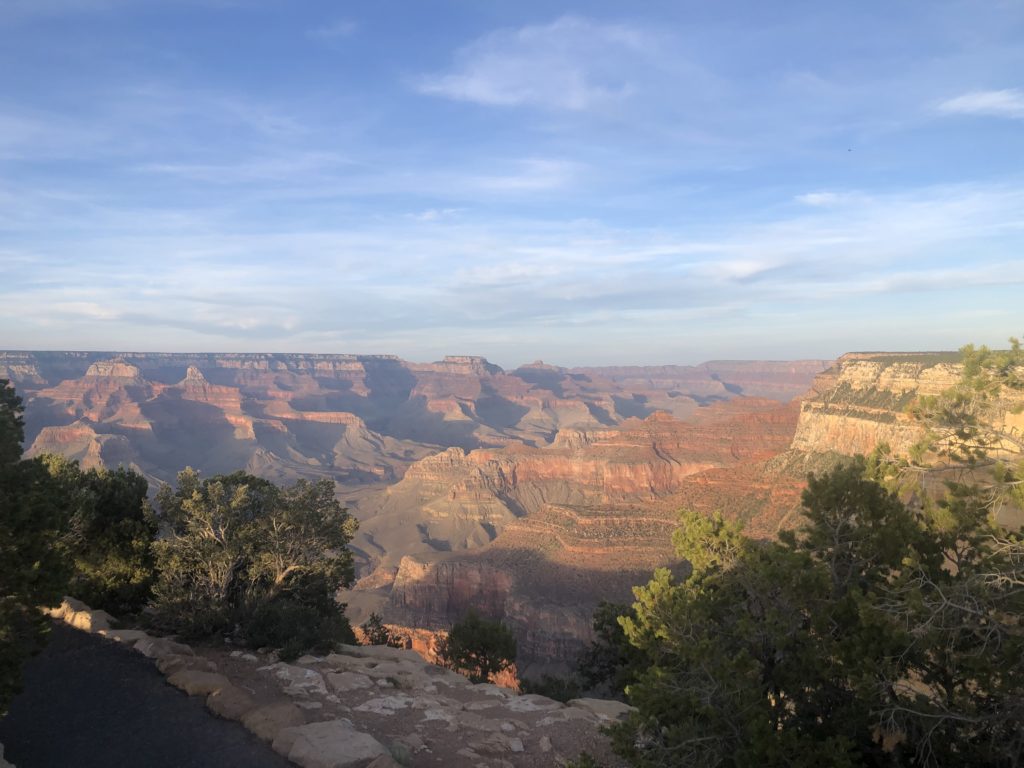 One of the United States Greatest Assets are the National Parks
One of the United States' greatest assets is its National Parks System which includes over 400 parks throughout the country and U.S. territories.  Yellowstone was the first national park established in 1872. Later, in 1916, the National Parks Service was created (lucky for us).  As guardians of these very diverse recreational areas, the park service takes care of over 84 million acres of land.   Visiting all of these special places certainly would take a lifetime of consistent commitment.  For those of us who like living the RVLife, visiting 7 spots in 14 days is very tempting.
If you start in Las Vegas, NV and make a round trip, you can see 7 (yes that's 7) magnificent  spots, six national parks and one national monument. But first, you must prepare for this epic journey.  Make campsite reservations 6 to 13 months in advance for each park. Try to camp inside the park for the full immersive experience. Second,  pack the essentials to make life sweet while you're on the road. Never leave your driveway without an outdoor camping tablecloth for lovely outdoor dining at your campsite, good wine & coffee, stainless steel wine tumblers for hot and cold drinks, solar fairy lights, and your favorite foods. If you're traveling with your dog, don't forget to bring a long dog leash for camping to keep them safe at the campsites. And be sure to bring bikes. There's nothing like riding a bike in a national park, you get to cover a lot of territory in a leisurely manner while picnicking along the way. 
PARK #1: Zion National Park
Recommended nights in Zion: 3 nights, 3 full days
This is one of the favorite national parks among many! If you are flying into Vegas and renting an RV, this is the place to begin your trip.  From Vegas, drive to Zion National Park, which is about a 2.5 to 3 hour drive.  You can stay at the Watchman Campground right inside of Zion and there are also RV parks right outside of the entrance which are just as nice. We've stayed at the Zion Canyon Campground along the river.  Be sure to bring rafts and your camping chairs to hang out for a day while enjoying the river.  We discovered little beaches a short walk from the campground along the river. There was even a rope swing tied in a tree that made the day more fun.
Zion doesn't allow cars inside most areas of the park, so they offer a shuttle service that stops at all of the hiking spots.  Be prepared with lunch and snacks packed along with towels, sunblock, and water. There are water refilling stations at each shuttle stop. 
In Zion, some favorite hikes are the Zion Narrows, Angels Landing and Emerald Pools.  The Narrows can take all day, so keep that in mind.  The little town of Springfield, UT also has cute restaurants and shops to visit after your day at the park.  
PARK #2: Bryce Canyon National Park
Recommended nights in Bryce Canyon: 1 night, 1.5 days
Bryce is about an hour and 45 minutes from Zion. It has stunning views of the hoodoos, which are spire-shaped rock formations that will take your breath away.  If you only have a few hours, head to Sunset Point to catch a park ranger rim trail tour and hike the easy but gorgeous Navajo Loop Trail. 
PARK #3: Capitol Reef National Park
In the late afternoon, head to Capitol Reef National Park, which is about 2 hours from Bryce.  This is a gorgeous canyon and a real treat to see it as the sun is setting.   Stay at Fruita Campground, the one and only of the national parks that actually has fruit orchards inside of the campground as well as a shop that sells delicious homemade pies. Get to the shop early because pies sell out fast.  The campground is charming and spending time there picking fruit and enjoying pie is an experience in itself. 
Head out the next day to hit a trail on your way out. There are a few along the road that are great, like the Hickman Bridge trail off of Route 24.   
PARK #4: Arches National Park
Recommended nights in Arches: 2 nights, 1.5 days 
 Arches National Park is 2 hours and 15 minutes from Capitol Reef.  Once you arrive that evening, settle in and use the next day to explore. This park can be very hot in the summer, so bring hats, lots of water,  sunscreen and rest in the shade as often as possible.  The arches truly are a sight to behold and worth every bead of sweat.  Some of the most well-known hikes are Delicate Arch Trail, Fiery Furnace, Balanced Rock and The Windows. 
PARK # 5: Canyonlands National Park
Recommended nights: Day trip from Arches campground (or spend an extra night in Needles or Island of the Sky districts) 
After spending your second night in Arches, head to Canyonlands on your way out, which is a 45 minute drive from Arches.  If you plan to be at Canyonlands for only a day, head to the Island in the Sky district to hike Mesa Arch or Grand View Point for shorter, easier hikes. If you have more time and want to get off the beaten path,  The Needles are an incredible maze of hoodoos and you might even spot Anasazi Indian petroglyphs.
PARK/MONUMENT #6: Monument Valley
Recommended nights: 1 night, 1 day
 Canyonlands to Monument Valley is a 3 hour stellar drive.  Once you arrive to Oljato Monument Valley, enjoy the views the Goulding campground has to offer. It's usually on the quieter side and a nice place to take a break from exploring. Make some good food, watch the sunset and enjoy the stars.
PARK #7: Grand Canyon National Park South Rim
Recommended nights: 3 nights, 4 days  
The Grand Canyon is a busy place, one of the busiest national parks in the country, so be prepared to see lots of people and have patience. Try to stay inside of the park at Trailer Village RV Park so traveling to the different spots takes less time. Reservations are accepted up to 13 months in advance, so plan ahead! If you are lucky enough to get a reservation at Trailer Village, you can take the bike trail on a 10 minute bike ride to Grand Canyon Village. Biking along The Rim is wonderful, just be sure to pack a lunch. If you prefer to walk around The Rim, consider scheduling a tour with a park ranger to hear about the interesting history of the Grand Canyon while enjoying breathtaking views. You can also take a shuttle bus to other sites. The Grand Canyon Village also has a few museums, shops and restaurants if you need to get out of the elements or want a rest.
After making your way to some of the amazing views at  Mather Point, Yavapai Point, Yaki Point or Ooh Aah Point, hop on the Grand Canyon Shuttle to catch Powell Point at sunset. This may be one of the best sunsets of your life. Powell Point is one of the best views at the Grand Canyon and it's a fabulous opportunity to take family photos for holiday cards.
Lastly, the Grand Canyon is also known for phenomenal star gazing experiences. Don't miss the constellation talks offered by the rangers in the evening, these are absolutely fantastic and not to be missed. Or, travel to  Mather Point, Moran Point or Lipan Point to do your own star gazing. Use a constellation app to help you map the stars. The Grand Canyon has been named one of the International Dark Sky Parks for a good reason. 
Now that you have seen seven mind blowing landscapes, and your mind and body have been filled with a plethora of epic natural experiences, you can head back home in a state of peace.  Enjoy the drive back home, but we know it's highly likely that you'll be planning the next national park trip while traveling back home on the open road.